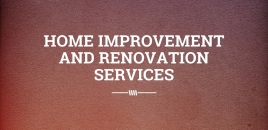 Home Improvement and Renovation Services
Remodeling Projects and Free Consultation
Contact Us | Punchbowl
About Us

Products and Services

Servicing Suburbs
About Us
Professional Home Improvement & Renovation Services Punchbowl

Domestic Home Renovation Services

General Remodeling Services
Professional Home Improvement & Renovation Services Punchbowl
Over the years of experience Almasri Home Renovations Punchbowl provide complete and extensive home improvement projects and also quality and reliable handyman Home Renovations Punchbowl is a long standing accredited Home Renovations Punchbowl experts. By upholding our standards in excellence and only providing the best quality workmanship and materials, Almasri Home Renovations Punchbowl have been able to build life-long relationships with our customers.

Cost Efficient Renovation Services Punchbowl

Trust the professionals at Almasri Home Renovations Punchbowl to provide you with top Quality & Service for your home. Almasri Home Renovations Punchbowl is committed to providing you with the highest level of service, so youll always choose us for your remodeling needs. Almasri Home Renovations Punchbowl know that remodeling upsets your life and is not fun or convenient. So, we want make the process as easy and enjoyable as possible for you. Almasri Home Renovations Punchbowl genuinely care about your project and your experience, and it shows. From the initial design process to construction completion, Almasri Home Renovations Punchbowl consider ourselves humble guests in your home, and as such respect your personal privacy and Home Renovations Punchbowl committed to remodeling and to serving you with quality and value. We'll come to you, listen to your needs and wants, and then come back to you with a logical, feasible plan that works for you. Our first-time customers continually become our long term customers time and time again, choosing us for all their remodeling needs.

Home Renovations Punchbowl
Almasri Home Renovations Punchbowl
Punchbowl 0416 765 377

Contact 0416 765 377 | Punchbowl
Products and Services
Service
Coatings, Council Submissions, Design, Installation, Made to Order, Project Management, Renovations, Repairs, Replacements
Brand
BlueScope Steel, Owens Corning, Stratco
Payment Method
American Express, Bpay, Cash, Cheques, Direct Debit, EFT, EFTPOS, Mastercard, Money Order, Visa
Hours of Operation
24hr Emergency Service, Flexible Hours, Open 24hrs, Open 365 Days, Open Evenings, Open Late, Open Monday - Friday, Open Saturdays, Open Sundays
Keywords
Servicing Suburbs
Do you have a free quotation or consultation for Home Renovations Punchbowl?

Yes, Almasri Home Renovations Punchbowl provides free consultation and advice all through out the process.

What other services do you offer?

Almasri Home Renovations Punchbowl provides you with Professional Contractor Services: House painting, Apartment painting, Move in /out painting. Plastering, Skim coat, Drywall taping and finishing, Wallpaper hanging and removal.

How to request for a schedule?

You can call Almasri Home Renovations Punchbowl at 0416 765 377 for inquiries and concerns. Again we offer free consultation and our experts will take care of you. Report an issue